2022/10/06
Important
【For TUAT members】Notice of service from October 3rd (Koganei library)
From October 3rd 2022, some services of Koganei Library have been changed. Please confirm the following information before your visit.
Please note that we may change the services depending on the situations.
Please see here for the services of Fuchu Library.
○ Eligible users
Faculty, staff, and students of TUAT ※Users not affiliated with TUAT cannot enter the library.
○ Conditions for using the library
・Those having any physical discomfort, or not wearing a face mask cannot enter the library.
・Please wash your hands, disinfect your hands with hand sanitizer, and follow proper coughing etiquette.
・You are required to disinfect your hands with hand sanitizer provided at the entrance.
・Admission may be restricted depending on the congestion.
・Please keep an appropriate distance away from others in the library, and refrain from having conversations between users (except for group study rooms and North building 3F).
○ Usage of reading seats, facilities, and equipment
・We have expanded the area where conversations are allowed.
You can use there for online lectures, interviews, group study, etc.
※Online classes without conversation are available in any seat in the library. Please use your headphones or earphones.
 【Advance reservation required】(Click here for details)
 Group study rooms : up to 5 users per room
 Work booths : 1 user per room
 【No reservation required】
 North building 3F : 19 seats (up to 6 users per group) The numbers vary on tables.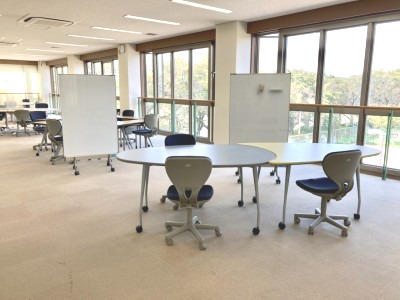 ※Do not move desks and chairs from their original positions.
・2F of the Reading room is suspended for the time being.
○ Returning library materials
In order to avoid close contacts and prevent infection, please return library materials to the book post. However, books borrowed from other libraries and audiovisual materials must be returned to the service counter.
Users who cannot come to the library can also return materials of TUAT library by mail or parcel delivery service. See here for further information.
○ Delivery services of library materials
We will provide materials necessary for your study and research. Eligible users are those who cannot come to the library to prevent infection.
Please note that postage is to be paid by the user. See here for details.
For inquiries or information, please contact the Information Service Section of Koganei library (johok_at_cc.tuat.ac.jp)